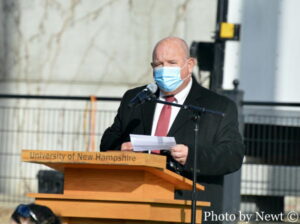 House Republican Alliance Mourns Speaker Hinch's Death
FOR IMMEDIATE RELEASE
December 9, 2020
Contact: Representative Mike Sylvia, 603.707.8594, Mike@MikeSylvia.org

CONCORD, NH – With very heavy hearts, the NH House Republican Alliance mourns the loss of newly elected House Speaker Dick Hinch.
Leader Hinch kept the Republicans' caucus united during a tough minority session during the last term. He worked tirelessly all summer for a Republican majority in the House this term and he achieved that goal.
Dick was a great team builder and he will be missed. "Dick was caring, a hard worker and the most fair man I have met in politics" said Deb Hobson (R–East Kingston).
Rest In Peace, Mr. Speaker.
—

The House Republican Alliance was established in 1997 and is the longest running caucus in the NH House of Representatives. It's goal is to pass legislation consistent with the US and NH Constitutions, and that represents the core values of the state Republican platform and fiscal responsibility.